Travel with us on Your Key to Burgundy  Escorted Journeys…
Those traveling on YK2B Escorted Journeys want more than just a trip.  They want to learn, to explore, and to understand.  In this spirit, every one of our guided excursions includes the following components:
Subject matter specialists:

Meet

 and travel with

chefs, artists, historians, and – of course! – wine specialists, who will share their experience and engage your curiosity.
Small group experiences: Leave the crowds behind and travel with four to ten others who share your interests.

Destinations that tell a story

: Visit the unique, the culturally rich, and the out-of-the way places that tourists would never find.

Exclusive access:

 Experience behind-the-scenes visits to sites and join informal gatherings with locals.

Pre-excursion preparation:

 Enjoy an extended relationship in which YK2B offers routine advance planning information, as well as interesting videos and information to help you make the most of your time in Burgundy.
And, in addition to Your Key to Burgundy's publicly-offered excursions, we can custom-design one just for your group, focused on your specific interests. Contact us to learn about how we can work with you to create your once-in-a-lifetime experience in the world's newest UNESCO World Heritage Site!
---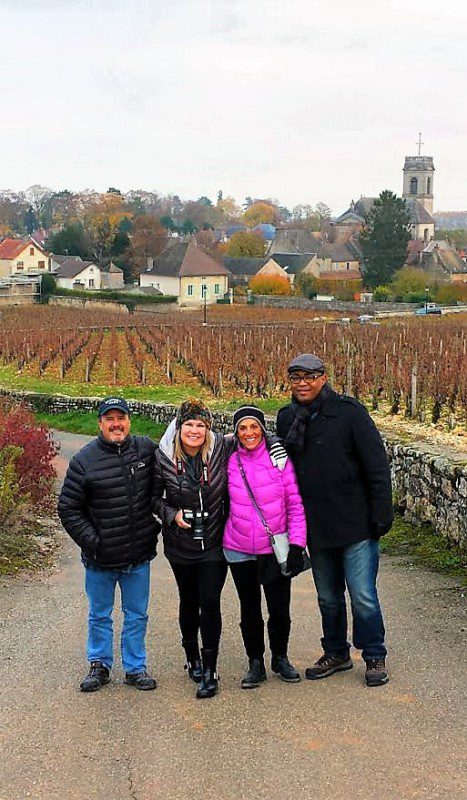 Coming Soon:  Our 2018 Excursions and Events…
We are currently in the process of developing our 2018 excursion offerings.  STAY TUNED for more information, coming at the end of the summer, including:
"Women with Wanderlust"

 

–  

YK2B is currently designing a brand-new series of travel experiences in Burgundy (also to include other regions of La Belle France) just for women!  Details coming soon.

"Burgundy and…."

– Building on the success of our "Burgundy and Bubbles" excursion last April that also included the Champagne region, we will be bringing to you a new "pairing." Burgundy and the Rhone Valley, Alsace, or Provence, anyone?

"Watercolors in the Vineyards 2018"

– Artists of all ability levels are welcomed (as well as their non-painting travel partners) to join David and Cindy Welch for a very special week in Pommard.  Come and paint with us in one of the most famous wine villages in the world!
Remember, that with the exception of our independent excursion packages, all Your Key to Burgundy excursions are privately guided and chauffeured, providing exclusive, highly-personalized service.   Concierge services of Your Key to Burgundy are included in all packages to assist you to plan additional aspects of your trip.  Excursions do not include airfare. Contact us for complete itinerary information.
Send us a note if you would like to be among the first to receive information about exciting events and opportunities to travel with Your Key to Burgundy.