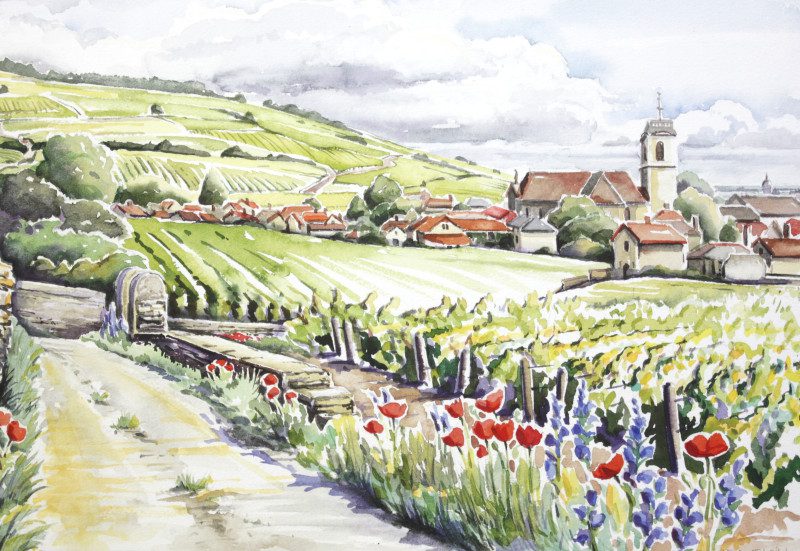 "Watercolors in the Vineyards 2018"

 
Price per Guest: $3,990
Based on double occupancy with private bathroom – Single supplement is $350 per person.
Ask us about special pricing for families and friends willing to share a bathroom between two bedrooms.
Additionally, we will take pleasure in working with non-painting companions to create a parallel itinerary for sightseeing and other experiences for those times when the artists are working.
Painting in the French Countryside.  Those simple words are sure to inspire both longing and excitement in artists of all experience levels and ages, conjuring images of rolling hills, ancient villages, and lush, green vineyards.
Eight nights in beautiful townhouse-apartment accommodations in the world-famous wine village of Pommard will provide ample time to explore the surrounding area, including the food, wines, and the medieval market town of Beaune, only three kilometers away.
Artists in particular appreciate the Cote d'Or in the month of July, with the long mid-summer days – sunrise around 5:30 a.m. and sunset around 9:30 p.m. – providing the ample opportunity to take full advantage of the special light that occurs at the edges of the day. The small size of our group – no more than eight artists – coupled with gentle guidance and instruction from experienced artists and teachers, will provide ample time and personalization to encourage participants to develop their own, individual talents and perspectives.
Non-painting travel companions will enjoy their own itinerary of sightseeing and other activities during those times when the artists are working. Those who enjoy the outdoors may opt to take advantage of Pommard's location on the Burgundy bike path, as well as circuit hikes that leave right from the church square. History buffs will appreciate our close proximity to the walled town of Beaune, only three kilometers away, where the oldest areas date back to the Romans and the Dukes of Burgundy held their parliament. Dijon, Burgundy's capital, is only an 18-minute train ride from Beaune. And of course, wine lovers will have their pick of domains to visit, from small, family-owned operations to large chateau properties. We will delight in working with you to customize an itinerary of exciting and memorable experiences!
And, our 2018 "Watercolors" excursion will take place over July 14, La Fête Nationale, or "Bastille Day," as we Americans call it. A rare opportunity to experience first-hand how a small Burgundian wine village celebrates the French national holiday. Join us for a unique and creative opportunity to experience and become a part of the rhythm of Burgundian village life!
David Welch is a highly-experienced teacher who takes delight in tailoring instruction to address the needs of artists of different styles and levels of experience. Visit David's website to learn more about his extensive background, experience, and art.
Please get in touch with us to receive a full itinerary.  We are waiting to hear from you!