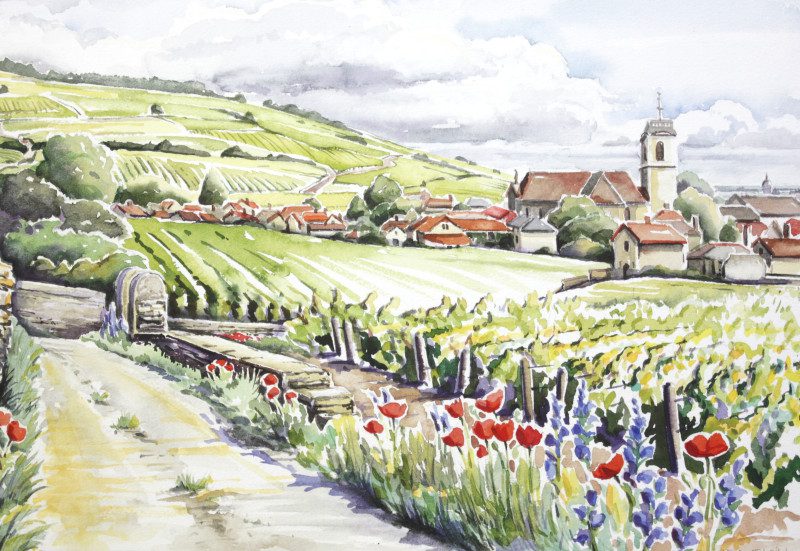 This was the description for our

"Watercolors in the Vineyards 2017"

excursion.  
Stay tuned for 2018 dates and details…
Price per Guest: $3,990
Based on double occupancy with private bathroom – Single supplement is $350 per person.
Ask us about special pricing for families and friends willing to share a bathroom between two bedrooms.
Additionally, we will take pleasure in working with non-painting companions to create a parallel itinerary for sightseeing and other experiences for those times when the artists are working.
Have you ever dreamed of painting in the French countryside?  Regardless of whether you are a beginner or advanced artist, this is your opportunity to make that dream a reality.
Highlights of this excursion will include plein air and still life painting under expert guidance, as well as numerous opportunities to experience the bountiful food, wine, culture, and history that this special region – now a UNESCO World Heritage Site – has to offer.
Includes eight nights in beautiful townhouse apartment accommodations in Pommard, one of the most famous wine villages in Burgundy.  Also includes most meals and private transportation from the Dijon train station to Pommard.  Private transportation from Paris Charles de Gaulle Airport may be arranged for an additional fee.
Workshop Focus
The workshop will focus largely on the landscape, working from the beautifully-rolling hillsides of the Cote d'Or and the charming village of Pommard, with opportunities to paint in the vineyards as well as in the village.  Fundamental issues of observation, compositional organization, and perspective will be addressed, getting at how to frame an effective composition, especially when surrounded by a landscape of enormous scope.  Watercolor techniques will be explored, balancing control with spontaneity.  Managing color relationships and harmonies will also be a key component in the week's work.
Participating artists will experience working on both quick watercolor sketches and sustained studies in the field.  There will be opportunities for one-on-one critique as well as group discussion.  Occasional rain is possible, and if it occurs, an indoor studio space will allow artists to revise field studies and try out alternative techniques.  The watercolor techniques of Cezanne will be demonstrated, and may be applied to either landscape or still life.
We will crown our unique experience with a mini exhibition to foster French-American friendship and share with the residents of the wine village of Pommard both the process and the results of our group's week of activity in and around these world-renowned vineyards.
David Welch is a highly-experienced teacher who takes delight in tailoring instruction to address the needs of artists of different styles and levels of experience. Visit David's website to learn more about his extensive background, experience, and art.
Please get in touch with us to receive a full itinerary.  We are waiting to hear from you!