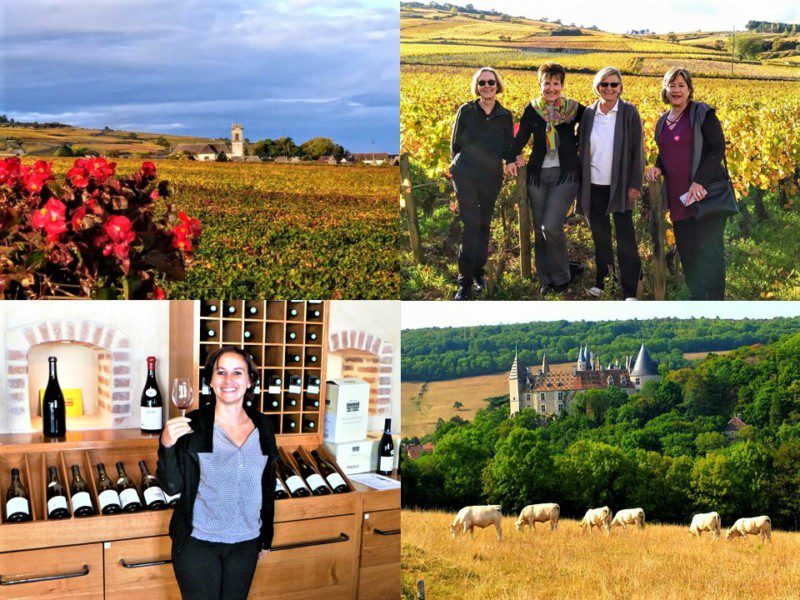 Women In Burgundy 2018 ….
"Life, Laughter, and the French Paradox" 
October 18 to 27, 2018   –  $4,290 per guest,  Limited to Six "Wander-ful Women!"
Join us for a lifestyle adventure in the heart of France as we explore the secrets of joyful and healthy living, the French way! 
Are you interested, but hesitating because you don't have a "buddy" who wants to sign on with you?  Don't worry!  This excursion is ideal for solo travelers, as this experience is all about self-rejuvenation and making new friends!
Airfare is not included, but all of the following is included:
To set the mood for French "joy of living," each guest will receive a pre-trip "Bienvenue" package, to include a copy of the book Joie De Vivre: Simple French Style for Everyday Living by Robert Arbor, along with information about your "home" in Burgundy and your neighborhood in Paris.
Your Private YK2B driver to meet you at Paris CDG Airport on the morning of Thursday, October 18, to bring you down to Pommard in the heart of the Cote d'Or, Burgundy. * 
7 nights at "Le Clos de Pommard" historic townhouse/apartment accommodations, where you will have your own single-occupancy bedroom, with a bathroom shared with at most one other guest.
Activities and experiences, including:

Numerous wine tastings and domaine visits throughout our week in Burgundy
Shopping at the Saturday Beaune Market and various shops featuring Burgundian specialties (Say "cheese!")
Tour and tasting at La Moutarderie Fallot, the last family-owned mustard operation in Burgundy
Truffle hunting in the countryside, followed by a truffle-themed lunch
Inspiring visits to some of Burgundy's most famous cultural and historic sites, including the Hospice de Beaune, Burgundy wine museum, and an historic Burgundy château
A French spa experience
A day in Dijon, Burgundy's historic capitol, on the day of the market in the famous hall designed by Gustave Eiffel
Late afternoon time for personal rejuvenation, including walks in the vineyards and village, tasting the delights in Pommard's award-winning chocolate shop, or soaking in the scene in the local café
Retail therapy, based on your individual needs
Opportunities to meet your "neighbors"- and perhaps make new friends – in Burgundy
Living like a local in one of the most famous wine villages in all of France!

Glorious cuisine in Burgundy, including:

Stocked fridge and pantry upon arrival in Pommard, based on items you have selected prior to our trip
Daily morning visit to the local Boulangerie for fresh breads and breakfast items, just steps away from your door
Lunch daily, enjoyed while we are "out and about" – Including local bistros and brasseries, small family-owned restaurants, wine bar experiences, and even a Michelin-starred gem
Sunday Brunch at the fabulous Abbaye de la Bussiere
Casual "assemble it ourselves" dinners "at home" in Pommard, featuring the fresh ingredients from the markets and specialty food shops and also from our village "traiteur," pizza and movie night, all with wines from our own private cellar
All provided lunches and dinners will include wine

All ground transportation in Burgundy
Private driver to take our group from Burgundy to Paris on Thursday, October 25
And in Paris…

2 nights at the 4-star Hotel Opera Cadet a boutique hotel on one of the most authentic market streets in Paris, with a full buffet breakfast included (double occupancy)
1 very special dinner – A true celebration of our time together in La Belle France!

Your personal cultural interpreter, guide, and Burgundy "local" (Carolyn!) to provide you with an insider's experience, unlike any other!
Cost Per Guest:  $4,290   (Single supplement for the 2 nights in Paris is $450)
This excursion is limited to six fun-loving, adventurous women.  Last year's Women in Burgundy excursion was filled within weeks of our public announcement, so don't delay!  Get in touch with us today for more details and to reserve your space!
* Please plan your airline travel for departure no later than Wednesday, October 17.  Guests must arrive at Paris Charles de Gaulle Airport by mid-morning on Thursday, October 18. To remove the worry of delayed or cancelled flights, our guests often choose to arrive a day in advance.  While not included in the price of the trip, YK2B can assist you with making a hotel reservation in Paris for the night of October 17.
To learn more, get in touch with us.  We are waiting to hear from you!